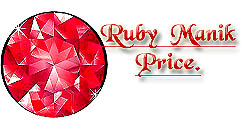 RUBY MANIK GEMSTONE PRICE

Regular Quality

Ruby ( MANIK )

Gemstone Price Starts from Rs 800 per Carat onwards.
Fine Quality

Ruby ( MANIK )

Gemstone Price Starts from Rs 1200 per Carat onwards.
Super Fine Quality

Burma Ruby ( MANIK )

Gemstones Price Starts from Rs 2000 per Carat onwards.

RUBY MANIK GEMSTONE HOW TO WEAR PROCEDURE

• The weight of the Ruby ( MANIK ) gemstone should be at least more than 4 Carats
• It should be studded in Gold or panch Dhatu Ring only.
• It should be worn in the Ring Finger of the Right hand .
On Sunday Morning ,

Put this ring with a Cup with a mixture of 1 spoon curd , 1 spoon Honey , 2 Spoons Milk , ½ Spoon Sugar , ½ Spoon Ghee.

They do your regular Morning Prayers.

After your Regular Prayers, Take this Ring out of the Above Mixture and wash it with Water or Ganga Jal .

Then Recite this Mantra: " Om Hrim Sum Suryaya Namah" 108 times after wearing the Gemstone.
This Ring is to be worn on a Sunday at Sunrise.
Also on this day the wearer should donate money/ Wheat / Jaggery to a Brahamin or a poor people.
LABORATORY CERTIFICATE OF AUTHENTICITY CAN ALSO BE PROVIDED WITH THE GEMSTONE

For Best Name Change Numerology Astrology Horoscope Guidance for Business , Job Marriage ,
Contact India's Top Astrologer Numerologist and Vastu Expert.

Mr Amit Lamba on 9819015736 / 9324012326

www.amitlamba.com

Copyright - Amit Lamba - Mumbai INDIA


Yellow ruby gemstones,Manik Birthstone , natural ruby, genuine Burmese rubies, red corundum from Madagascar, ruby gems, Manik gems, wear ruby, Sun's gemstone , Mumbai , Bombay , India ,Birthstone ,GEMSTONES, Lucky Stones , GEMS GUIDANCE, Gemologist , RATNA ADVICE ,Gemstone Consultant , Birth Stone , Gems Advice , Gems Expert , ENERGIZED GEMSTONE - Mumbai, India , Precious Stones , Semi Precious , GEMS, Lucky Gems , Birth stones , Lucky Stones . Gemstones India, Gemstones Mumbai, RATTAN, RATTAN India, ASTROLOGY India, Neelam , Pukhraj , Shani , Pearl, Gemologist , Ruby, Manik ,Red Garnet , Pearl, Moti, Moonstone, Emerald, Panna ,Aquamarine, Zade, Diamond, Heera White Sapphire, Blue Sapphire ,Opal, Lucky Gems , Lucky Stones.