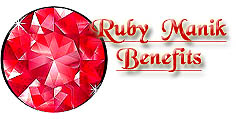 RUBY - MANIK GEMSTONE BENEFITS
Ruby is the stone of Planet sun , As per Astrology the Sun signifies father, courage, power and authority, boldness, ambitions, commanding power, generosity and dignity . Thus on wearing the Ruby the person the Person achieves the above .
As per Astrology On wearing the Ruby ( manik ) Gemstone one feels a development of soul force and creates confidence, optimism and courage in him.
Ruby ( manik ) Gemstone is very good for success in higher competitive exams, especially in the Indian civil services.
Ruby( manik )Gemstone is considered lucky gem for all those are born under number 1. As the Sun rules this number.
Ruby ( manik ) Gemstone plays dominating role in many career paths of politician, bureaucrats , actors, jewelers, and Persons in Government Services like the Police , Tax Departments etc
Ruby ( manik ) Gemstone stimulates blood circulation and protects and gives relief one from all sorts of blood related problems .
When in anyone Horoscope Surya or the SUN is debilitated in Libra Rashi or occupies debilitation / great enemy navamsa or is conjunct Shani / Rahu / Ketu or the Birtrh of the Person is on eclipse day then wearing of a Ruby ( manik ) Gemstone enhances the prospects of native and serves him good.

For Best Name Change Numerology Astrology Horoscope Guidance for Business , Job Marriage ,
Contact India's Top Astrologer Numerologist and Vastu Expert.

Mr Amit Lamba on 9819015736 / 9324012326

www.amitlamba.com

LABORATORY CERTIFICATE OF AUTHENTICITY CAN ALSO BE PROVIDED WITH THE GEMSTONE

Copyright - Amit Lamba - Mumbai INDIA


Yellow ruby gemstones,Manik Birthstone , natural ruby, genuine Burmese rubies, red corundum from Madagascar, ruby gems, Manik gems, wear ruby, Sun's gemstone , Mumbai , Bombay , India ,Birthstone ,GEMSTONES, Lucky Stones , GEMS GUIDANCE, Gemologist , RATNA ADVICE ,Gemstone Consultant , Birth Stone , Gems Advice , Gems Expert , ENERGIZED GEMSTONE - Mumbai, India , Precious Stones , Semi Precious , GEMS, Lucky Gems , Birth stones , Lucky Stones . Gemstones India, Gemstones Mumbai, RATTAN, RATTAN India, ASTROLOGY India, Neelam , Pukhraj , Shani , Pearl, Gemologist , Ruby, Manik ,Red Garnet , Pearl, Moti, Moonstone, Emerald, Panna ,Aquamarine, Zade, Diamond, Heera White Sapphire, Blue Sapphire ,Opal, Lucky Gems , Lucky Stones.